As promised a review for the Heir of fire but since I didn't know how to review this book as a stand alone so I am going to review the entire series up until just before Empire of storms. Spoiler free.
Publisher: Bloomsbury
Source: Bought
Genre: Fantasy, Teens & YA
Rating: 4 stars
Throne of Glass (Throne of Glass #1)
Crown of Midnight (Throne of Glass, #2)
Heir of Fire (Throne of Glass, #3)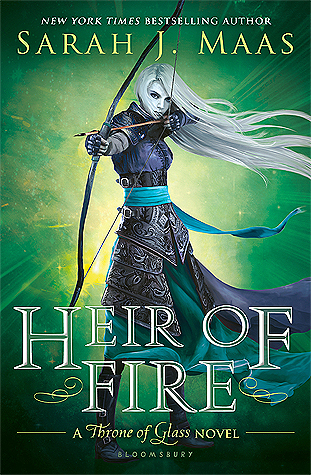 Queen of Shadows (Throne of Glass, #4)
What's it about?
It's about the greatest assassin Adarlan has ever known. Celaena Sardothien is brought back by the crown prince to fight in a battle to become the king's champion which will lead to her freedom from the dreaded prison Endovier.  If she won she would work as the king's assassin and be granted freedom after 4 years of work. The contest is brutal and filled with thieves and other skilled mercenaries. When one of the other contestants show up dead Celeana decides to investigate before she is next.
My experience:
Honestly, once you get into the series you can't put it down. You gobble it up like candy and before you know it you are on the last book of the series and it's a whole year before the next one comes out. This series takes you on a grand adventure makes you fight like an assassin gives you the courage of an iron teeth witch and makes you cheer for loyalty and honour.
My metaphor
This series is like a fire. It takes a little bit of work to get it started. Gather the wood and start rubbing two sticks meaning you have to read a little bit. if you don't fancy the first book I would say keep reading. The more you put in the stronger and bigger the fire burns until it's one massive storm of fire that threatens to evaporate all your reading plans for quite a while. It's an addictive series that you need to digest. It brings you to tears of sadness and anger it makes you laugh and it keeps you on the edge of your horse yelling for it to continue. The flow of the writing is easy to follow the breaks between the books are almost none existent it's like one massive book.
The characters
The great thing about these books is you get to live in the skins of the different characters which gives the story a different dynamic and keeps it exciting. Sometimes you want to skip the chapter of the character you are currently reading because you are so engrossed with a different character's journey but you keep reading in case you miss something important.
Overall the series so far has a 4-star rating for me.
Sincerely
Snow